Laundry Bag Making Machine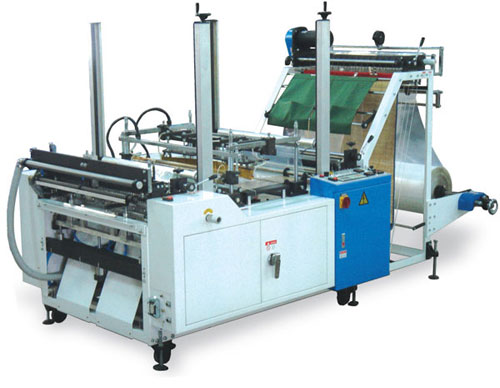 OPTIONAL EQEIPMENT :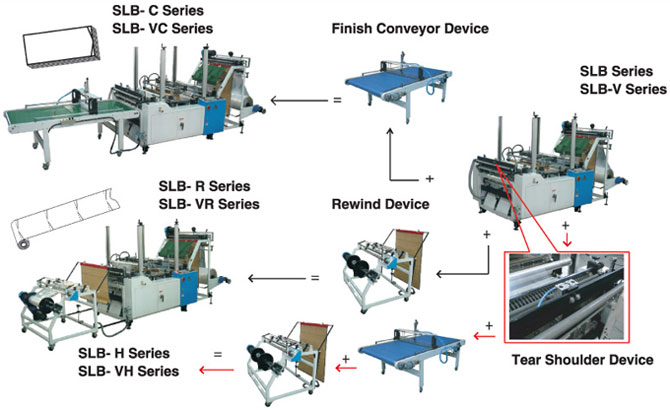 FEATURES :
This machine can make product bags and laundry bags with functions for cut off and continuous perforation winding. (Optional)

Winding system uses tension control and multi-winding speed control.

The shoulder seal device is adjustable.

Tension-free seal device.

Automatic tear shoulder device and conveyor device. (Optional)

Print Sensor device guarantees precisely printed bags. (Optional)

Auto alarm and stop function in case of broken film or in case the machine runs out of material.
SPECIFICATIONS :
Model
Bag Size
(mm)
Thickness
of film (mm)
Capacity
(cycle/min.)
Rewinder Dia.(mm)
Material Film Dia.
Power Required
Machine Size
L x W x H (M)
SERVO TYPE
SLB-800V
(C;R;H)
750~1800
0.01~0.08
30~120
75~200
max.700
7.2W
4.7X1.7X1.99
SLB-1000V
(C;R;H)
940~1800
0.01~0.08
30~120
75~200
max.700
8.6W
4.7X1.9X1.99
CLUTCH & BRAKE TYPE
SLB-800
(C;R;H)
750~1010
0.01~0.08
30~70
75~200
max.700
6.5W
4.7X1.7X1.99
SLB-1000
(C;R;H)
940~1010
0.01~0.08
30~70
75~200
max.700
6.9W
4.7X1.9X1.99